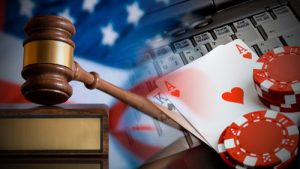 Not only that America's online gamblers have a difficult time seeking out an online casino licenced in the US because of the conundrum that surrounds the legality of online gambling, they are also at a disadvantage because players who seek out legal assistance are surprised to find that they have no proper legal recourse in case of mistreatment by an unscrupulous online casino. Gamblers' consumer protection issues need addressing, and while reputable online casinos are known to self-regulate and have consumer protection guidelines in place, from a pure legislative standpoint, online gamblers' consumer protection laws are non-existent.
UIGEA of 2006
With regulators and legislators still debating over the interpretation of the Unlawful Internet Gambling Enforcement Act of 2006, which polices transactions between US players and online gambling sites, and the Federal Wire Act, which doesn't, in plain language, prohibit internet gambling on a game of chance, a regulatory framework for online gambling would be welcomed both by online casinos and by gamblers. A law of such nature would protect consumers' rights and would safeguard the integrity of financial transaction in the online gambling sphere.
Even though some gamblers enjoy the unregulated nature of the internet gambling environment and the fact that they aren't held accountable for where and how much they win or gamble, when faced with unfair treatment, they do recognise the need for the legalisation of online gambling that would also open the way for consumer protection regulations.
Internet Gambling Regulation, Consumer Protection, and Enforcement Act
A 2009 bill, the Internet Gambling Regulation, Consumer Protection, and Enforcement Act, proposed by Representative Barney Frank (D-MA) aimed to finally bring a much anticipated shift in the state of online gambling. The bill was proposed on the grounds that despite existing regulations, more and more USA citizens engage in online gambling activities; that online gambling is offered by many operators based in different countries and subject to different licencing regulations, and there is no oversight over the activities of these in their relation to US players; that in almost all states in the US some form of gambling or other is permitted; that in the absence of Federal licencing regulations which would ensure that the games are fair and which would enforce limitations imposed by States and Indian tribes, underage players and other vulnerable categories have no legal protection.
Rep. Barney Frank has proposed many variations of on this bill, unfortunately the bill was not adopted, however, it did bring up the conversation on the legalisation of online gambling, which resulted in several States passing laws to expressly legalise certain forms of gambling (e.g. New Jersey, Nevada, Delaware).
On state level, there are regulations in the works for legalising online gambling activities. States such as California and Pennsylvania may follow suit this year, however, a federal bill is yet to emerge on this issue, even though there is a stringent need for a legalisation and oversight of online gambling activities.
What future may bring in gambling for consumer protection
Until then, USA players should bear in mind that the state of current regulations have no teeth in imposing or enforcing any consumer protection demands set forth by players. Therefore, until legislators recognise the need for such regulations, the safest bet for USA gamblers is to exercise some degree of foresight in choosing a reputable online casino.
Mentés
Mentés
Mentés
Mentés