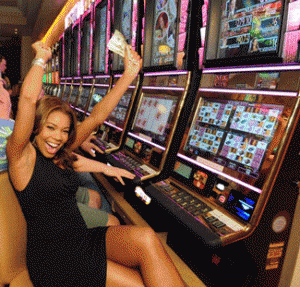 Whether playing slots online or on the casino floor, it's important to understand that your counting skills or perceived ability to distinguish between hot and cold machines are not going to help to win at slot machines, simply because slots are not a game of skill. No amount of technical skill or game theory knowledge is going to help you to pick that winning slot machine that will land you the progressive jackpot every slot player is dreaming about. Slots are all about luck and randomness, and each and every spin has to be treated as an independent event not linked to the previous spin.
Are there any ways to win at slot machines? Can you ever pick a winning slot machine? The is no sure-fire way to win or to pick that one loose slot machine, but there are a few pointers that you can rely on to maximise your chances to win, and perhaps land that much coveted jackpot.
Here are our tips on how to maximise your chances to win at a slot machine and how to pick slot machines that are more likely to increase your winnings:
Understand and embrace randomness
The sooner you understand how slots work, the better. The spinning of the wheels and the stop each reel ends up on is all determined by random number generators, which make it impossible to predict what will happen next. Moreover, it's also important to understand that these RNGs are programmed in such a way to offer a mathematical advantage to the casino, so you're already starting out without the odds in your favour. This doesn't mean that you can't win, only that you can't predict whether you will win or not based on the past behaviour of the slot machine. Therefore, hot and cold slot machine theories simply don't hold up upon closer inspection.
Try slot machines for free
Don't jump right into it, if there is a demo version of a slot game you want to play, try that first. You don't want to make a financial commitment unless the slot is really worth your time. Test the features of the game. Once you've determined that the slot of your choice lives up to your requirements, you can play for real money.
Look out for bonuses and become a casino member
All casinos offer some type of bonus whether it's a no-deposit welcome bonus, a deposit bonus, a match bonus or a few free spins, choose a casino that likes to reward its players. If the casino has a membership programme, join it and take advantage of the bonus points you collect with each deposit you make. Also look for slots that are not shy in the bonus department, thus, look out for games that offer bonus rounds, extra wilds, and other bonuses that may give you some free spins or extra credit to play with.
Bet smartly – pick and choose the right winning slot game
Don't bet money you can't afford to lose, and if you're not hell-bent on winning a huge sum, ditch the progressive slots in favour of fixed jackpot slots. The latter are easier to win than the former. Likewise, choose casinos and games with a better pay-out percentage.
How to win at slot machines? Choose a reputable casino, test the games, don't go for the progressive jackpot, and take advantage of any bonus that may turn the odds in your favour.